This eight-piece wearable art ensemble pays homage to the splendors of India.
The back of the cape features a stunning scene of the Taj Mahal, truly one of the "jewels" of India. This is created in my original "Textile Impressionism" technique. The scene looks like a painting from a distance, however, each "brushstroke" is cut from fabric. The majestic Taj Mahal, its reflection, the trees and swans all appear to be dimensional through the effective use of value, color and perspective. The deep blue archway framing the scene was constructed of a variety of fabrics, including Cherrywood's hand-dyed gradations. The illusion of thickness of the deep blue archway was created by careful planning when cutting each piece from a gradated fabric.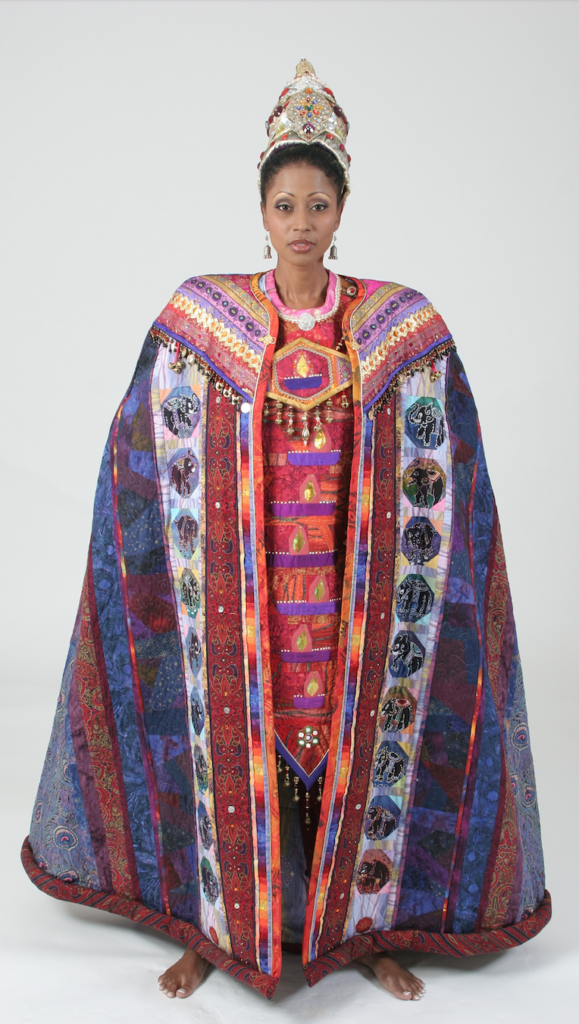 Eighteen mini batik panels of elephants from Island Batik were pieced into the front of the cape. Each elephant was outlined with over 100 hot fix crystals.
During the years that I explored quilting and fiber art, I participated in several designers' invitational wearable art fashion shows. This is the last ensemble I created, it was for the Bernina Fashion show which premiered at the Houston International Quilt Festival and toured from 2005-2006.
This ensemble won Best in Show at the d'Art Center's juried national Time Machine exhibit in 2017 and was featured in other events. See Jewels of India, Part 2: The Lakshmi Tabard here.