This eight-piece ensemble pays homage to the splendors of India and the goddess Lakshmi (pronounced "Lock-shmee".)
The back of the tabard features Lakshmi,  the goddess of abundance, love, grace, light and beauty.
The goddess' face was drawn with Prismacolor pencil on fabric, the heat of the iron secures the wax-based colored pencil into the fabric. This is the only place in the ensemble where standard art supplies were used, the rest of the image is created from fabrics and threads in my original "Textile Impressionism" technique. The figure looks like a painting– each "brushstroke" is made of fabric. The drape of the costume and the lotus flower below appear to be dimensional through the effective use of value and color.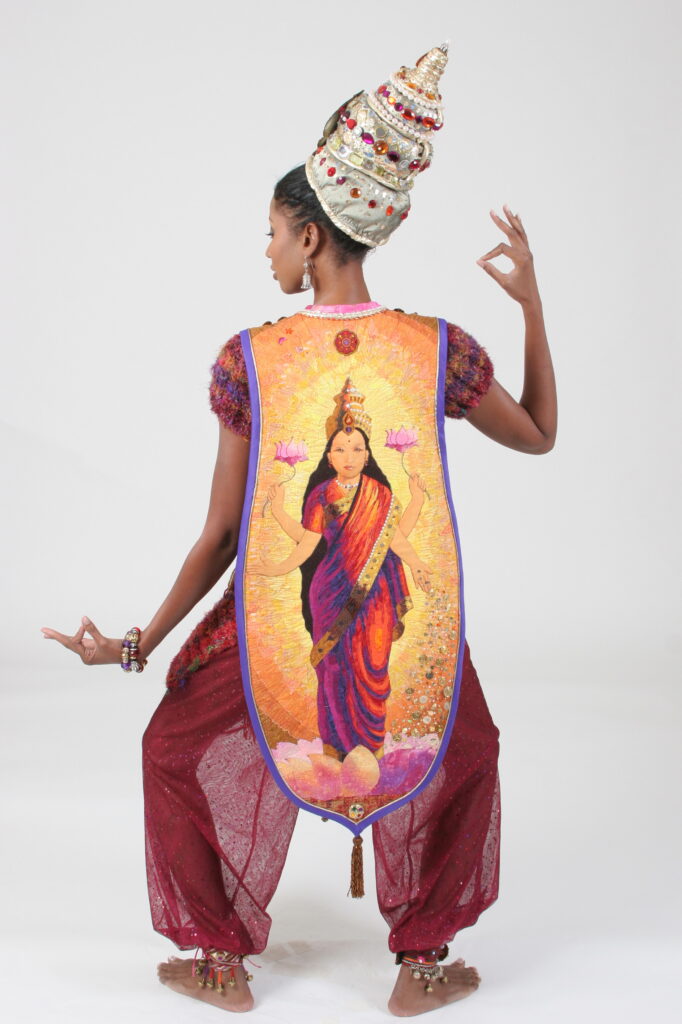 Two of Lakshmi's four hands hold the lotus flowers that symbolize divine enlightenment. She holds another hand out to bestow her abundant spiritual blessings, and from another hand cascades her material blessings in a shower of golden coins.
The front of the tabard features seven twinkling lamps reminiscent of Lakshmi's holiday of lights, Diwali, and represent the luminescence of inner light. The attached necklace is quilted and embellished with beads, bells and prismatic foil.
The crop top and hip wrap are made of 100% silk yarn, and were knit by my friend Amana Nova, founder of Mango Moon yarns. She has moved on from that business, but I always loved her foundation concept:  women in a village in Nepal use drop spindles to spin Mango Moon's multicolored yarn out of recycled silk sari's from India, creating a product used mostly by women, purchased from a woman-owned business…all was filled with the Divine Feminine!
During the years that I explored quilting and fiber art, I participated in several designers' invitational wearable art fashion shows. This is the last ensemble I created, it was for the Bernina Fashion show which premiered at the Houston International Quilt Festival in 2005 and toured through 2006.
This ensemble won Best in Show at the d'Art Center's juried national Time Machine exhibit in 2017.
See Jewels of India, Part 1: The Taj Mahal Cape (Quilted Wearable Art) here.