I visited the Rhode Island School of Design Museum of Art with my friend Joy in search of another Mary Cassatt painting, which was also not on view, as happened in a few previous museums on this trip…
However, I was thrilled to find a painting by Angelica Kauffmann (1741-1807) since few museums in America have her work in their collections.
Angelica was a history painter in the late 1700s and early 1800s. At that time, "history painting" was considered the most prestigious subject in art, and included primarily religious, mythological, and allegorical subjects, as well as some of what we consider to be historical, today,  (ie, depictions of scenes from secular history).
Angelica was born in Switzerland in 1741, and was taught by her father, a painter and muralist, becoming his assistant by the time she was 10 or 11, and fulfilling portrait commissions at 12. She was also a child prodigy in music and spoke five languages, learned from her mother.
She painted Praxiteles Giving Phryne his Statue of Cupid,  col. RISD Museum of Art, in 1794.
Praxiteles was a 4th century BC Greek sculptor, known for creating the first life sized nude sculpture of Venus. It is commonly thought that the famous and beautiful courtesan, Phryne, was the model. Some believe that Praxiteles' favorite of his sculptures was the Cupid portrayed here.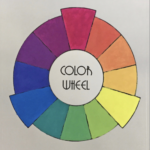 Angelica uses a primary triadic color harmony of red, yellow and blue. If you are "wondering where the yellow went," the brown in the background is actually a dark value of yellow.