Florence Griswold's Connecticut boarding house (now the Florence Griswold Museum) was the nucleus of the "Old Lyme Art Colony" in the early 20th century.
American Impressionists who spent time painting there in the summers include Ellen Axson Wilson, (first wife of president Woodrow Wilson), Childe Hassam, Frank Vincent DuMond and Willard Metcalf (1858-1925).
Above is a detail of Metcalf's Child in Sunlight, 1915, depicting his daughter Rosalind, which is in the museum's collection of paintings by the artists who summered there.
Metcalf's most celebrated work is May Night, 1906, which features the front lawn and facade of the Griswold House, its Ionic columns seen in atmospheric moonlight. Trees cast long shadows on the lawn and touches of warmth are provided by the light emanating from within the house. "Miss Florence" walks across the lawn toward the house while another woman sits on the front porch.
In 1902, Frank Vincent DuMond directed the Lyme Summer School of Art, one of the finest in the country at the time. By 1903, he  had begun teaching the painting of moonlight subjects and the artists were all eager to experiment with nocturnal paintings. Metcalf's May Night was by far the most successful.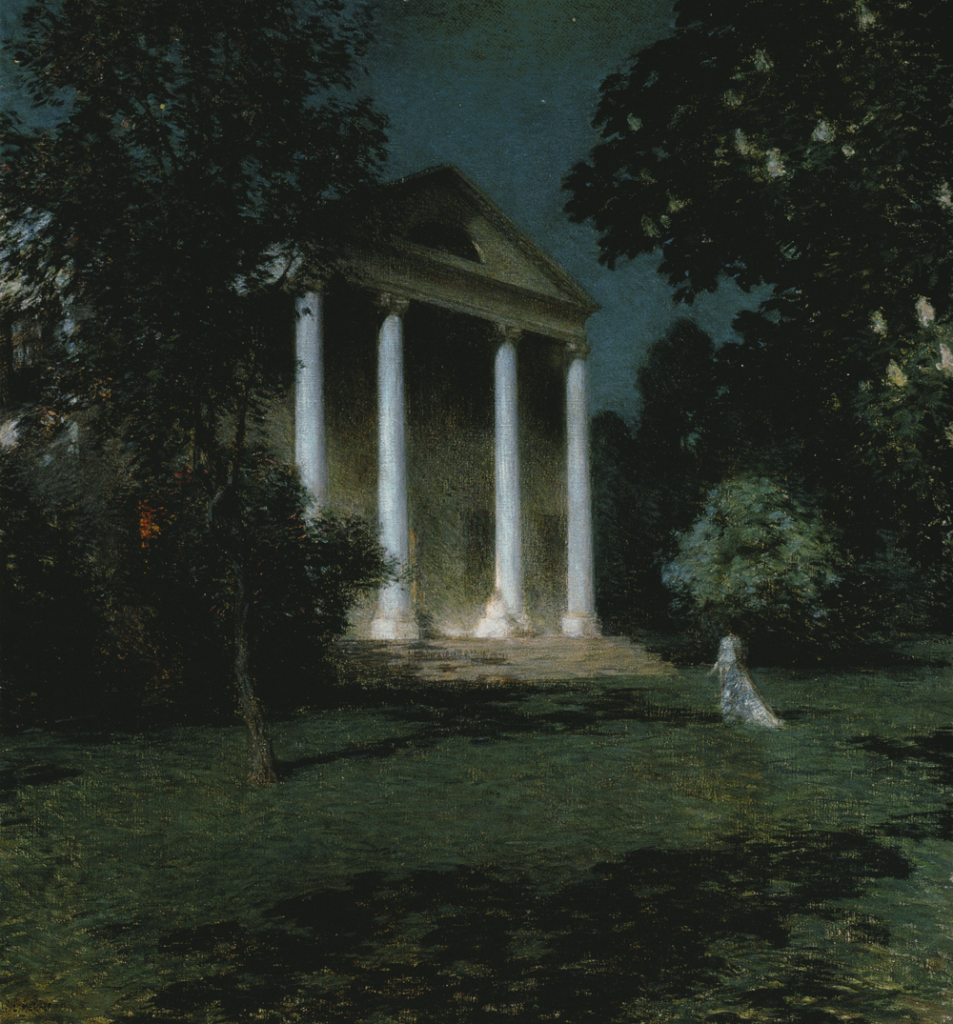 The painting soon had a profoundly beneficial impact on Metcalf's career, and on the Old Lyme colony. In January 1907 at the Corcoran Gallery's inaugural exhibition of contemporary art May Night  was awarded the Clark Gold Medal and $1,000, and was bought by the Corcoran for $3,000, thus becoming the gallery's first purchase of a contemporary American painting. The painting is now in the collection of the National Gallery of Art, Wash, DC.
Frank Vincent DuMond is in the Ocean View Arts Artistic Lineage. Ellen Axson Wilson  was among his Old Lyme students.