Begins Tues. July 6
Alternate Tuesday evenings, 7 pm – 8:30 pm Eastern
July 6 & 20, August 3, 17, & 31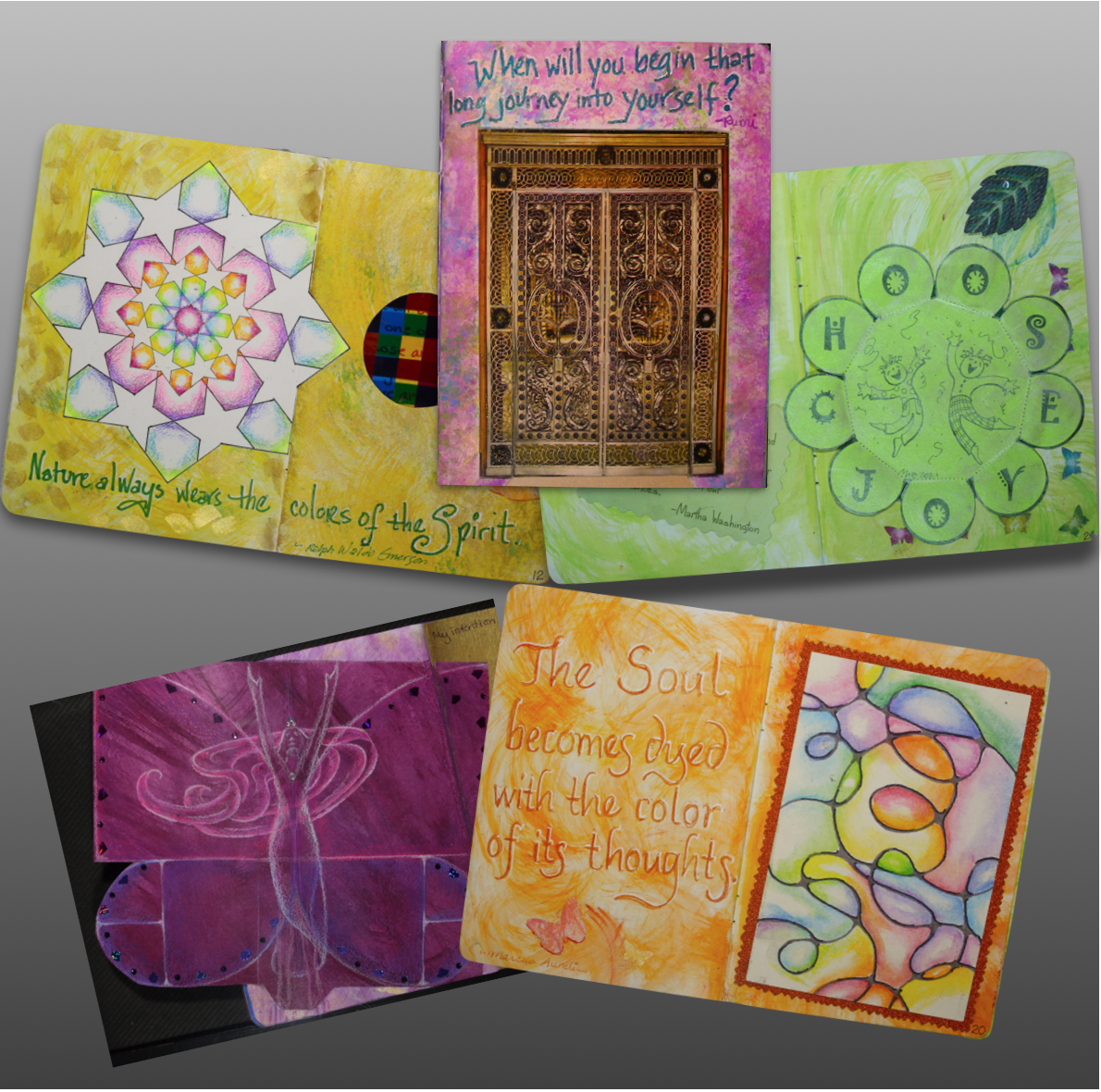 See a sample at: https://www.sketchbookproject.com/library/S7116370
Have fun creating a small but fun and artsy sketchbook!
This course will meet online for 5 sessions over an 8 week period, sessions will be recorded for students who are unable to attend the live sessions. Class size limited.
What to expect:
You'll get help in developing a theme for your sketchbook, or choose one you already have in mind.  One option is creating beautiful background pages for your favorite quotations, like I did in my sketchbook. Or, you could even write a little story book.
You'll get custom coaching on how to best design your unique sketchbook, using themes and supplies that you love best, and you'll get inspiration from ideas shared with other members of the group
You'll learn several fun techniques and choose the ones you like to use in your sketchbook.
You can create realistic artwork, abstract designs, collage, calligraphy, or anything that inspires and excites you.
You can make your sketchbook as long or as short as you like, options will be discussed in the introductory class.
You don't have to know how to draw! You can stencil, trace, collage, etc. 
Supplies:
You don't need ANY supplies for the first class, which will be an exploratory introduction to the project. 
You can make decisions about what kind of sketchbook and which media you would like to use after the first session. 
The sketchbook needed for this workshop is small, only about 5" x 7", and you can use selected media which will be demonstrated, or choose any media you like: paint (watercolor, acrylic, gouache), oil pastels, Prismacolor pencils, watercolor pencils, markers, fabric/textiles/embellishments, collage, photography and/or mixed media.
This workshop is compatible with the Brooklyn Art Library Sketchbook Project. 
During this course,  you can choose to make a sketchbook that you keep, OR one that you give away to the Brooklyn Art Library sketchbook Project. 
Yikes! Why would I want to give my sketchbook away? 
Your sketchbook will live in the Brooklyn Art Library and will travel in their Bookmobile – in the largest collection of art sketchbooks in the world! People will read your book and be inspired by your words and images, and the ripple effects of your creativity will spread out far and wide! What is the message in your heart that you would love to share with people? Perhaps something that will leave them inspired after they read your book?

 

Or bring them joy as a way to add healing energy to the world? This is your opportunity! And one of the choices is to have your book added to the Brooklyn Art Library digital collection as well – they do the photography and post it, and you can share the link.
If you are an art professional or are on your way to becoming one, having a book in the Brooklyn Art Library collection is an excellent item to list in your portfolio…and if you elect to add your book to the digital collection, then you can include the link in any of your promotional materials. Also, if you choose, your name and contact info can be visible to everyone who sees your sketchbook – so this can count as a promotional tool.
Here's another reason for participating in a "giveaway":

 

both Native American wisdom and the Dalai Lama tell us that non-attachment is a virtue, so this is a chance to practice that! (If you are not so great at non-attachment yet, but you still want to participate in the Brooklyn Art Library project,

 

you can do what I did…photocopy every page before you send your book in!)

 

One of the most valuable lessons of the "giveaway" is that you only give away the material object – all of the ideas and techniques you learned stay inside you and can be applied to many more projects!
If you choose to participate in the Brooklyn Art Library, you will have until November to turn in your sketchbook. You can find out more here: 
Or, you can just keep your sketchbook.
All options will be explored and explained in the first session.
See Examples:
You can take a look at my sketchbook and some others, at these links, to get an idea of some of the possibilities. All of the examples at these links are in the Brooklyn Art Library Sketchbook Project.
My sketchbook: https://www.sketchbookproject.com/library/S7116370
Others: 
https://www.sketchbookproject.com/library/S69454
https://www.sketchbookproject.com/library/S63288
https://www.sketchbookproject.com/library/S147347
https://www.sketchbookproject.com/library/160 (if you have taken my in-person mandala class, or if you own Judith Cornell's mandala healing kit, you will recognize that three of the stencils from that kit were used in this last sketchbook: the dolphin, the om and the lotus!
UPCOMING WORKSHOPS:
Upcoming Workshops: Times and Dates TBA
Learn by copying: Georgia O'Keeffe's Poppies
You'll learn Meryl Ann's valuable methods as you paint a copy of Oriental Poppies, 18" x 24."
The initial underpainting is done in acrylics in order to create depth of color, the top painting is done in oils for ease in blending. Copying from the Old Masters is one of the most basic traditional learning methods – in fact, the reason art museums were founded was in order to provide great works for art students to copy!
Elements of Art: Keys of Color
Students receive a pdf of Meryl Ann's  30-page workbook, Elements of Art: Keys of Color, and during workshop times, will complete the color charts that accompany the workbook. Students go at their own pace. Supplies: a set of gouache (not acrylic gouache) and brushes.
Drawing Tips and Secrets
Demos and hands on activities to train you eye and hand, and a peek into some of the secrets the Masters used for accuracy in drawing.