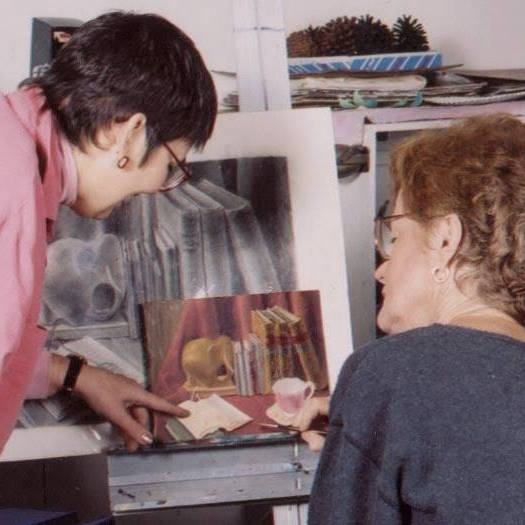 Private Art Instruction
Online and In Person
Ocean View Arts offers both online and in-person private lessons and project/portfolio consultations for all ages.
Our spacious studio is located at 209 West Ocean View Ave., Norfolk, Virginia
Owner Meryl Ann Butler has been teaching for over four decades, has operated two art schools, taught at the University level and at national and international events.
.
She offers traditional art training as well as visionary and mixed media art methods, and designs each student's curriculum, along with their input, to match their needs and desires.
The wide range of study areas offered include:
Drawing
Oil painting
Acrylic painting
Pastels
Watercolor
Colored pencil
Color theory and application
Art journaling
Fiber art and Quilting
Mandala drawing/painting
Labyrinth Design
Art and Healing
Project consultation and feedback
Portfolio consultation and feedback
Private sessions can be scheduled at your convenience.  The regular rate is $90/hour, but prices vary depending on how many classes are purchased at one time.  The Dedicated Student Discount is available at $65/hour when purchasing a minimum of three, one-hour coupons; this saves $25 per lesson. Students can use these coupons as desired — weekly, every other week, once a month, or whatever fits the schedule.
Students who were uncertain about switching from the group classes they loved before the pandemic to private lessons have been won over, saying they learned so much more in one private lesson than in two or three group lessons. This makes private instruction much more efficient in terms of both time and money.
You can see examples of private student work here.
Prospective students are invited to make a no-obligation introductory appointment for an in-person tour of the studio or a meeting via Zoom to check us out!
Step One
Submit this private lesson inquiry form.  I'll be in touch soon.
UPCOMING WORKSHOPS:
Upcoming Workshops: Times and Dates TBA
Learn by copying: Georgia O'Keeffe's Poppies
You'll learn Meryl Ann's valuable methods as you paint a copy of Oriental Poppies, 18" x 24."
The initial underpainting is done in acrylics in order to create depth of color, the top painting is done in oils for ease in blending. Copying from the Old Masters is one of the most basic traditional learning methods – in fact, the reason art museums were founded was in order to provide great works for art students to copy!
Elements of Art: Keys of Color
Students receive a pdf of Meryl Ann's  30-page workbook, Elements of Art: Keys of Color, and during workshop times, will complete the color charts that accompany the workbook. Students go at their own pace. Supplies: a set of gouache (not acrylic gouache) and brushes.
Drawing Tips and Secrets
Demos and hands on activities to train you eye and hand, and a peek into some of the secrets the Masters used for accuracy in drawing.