Art Instruction for People at all Skill Levels
Where your inner artist comes to life.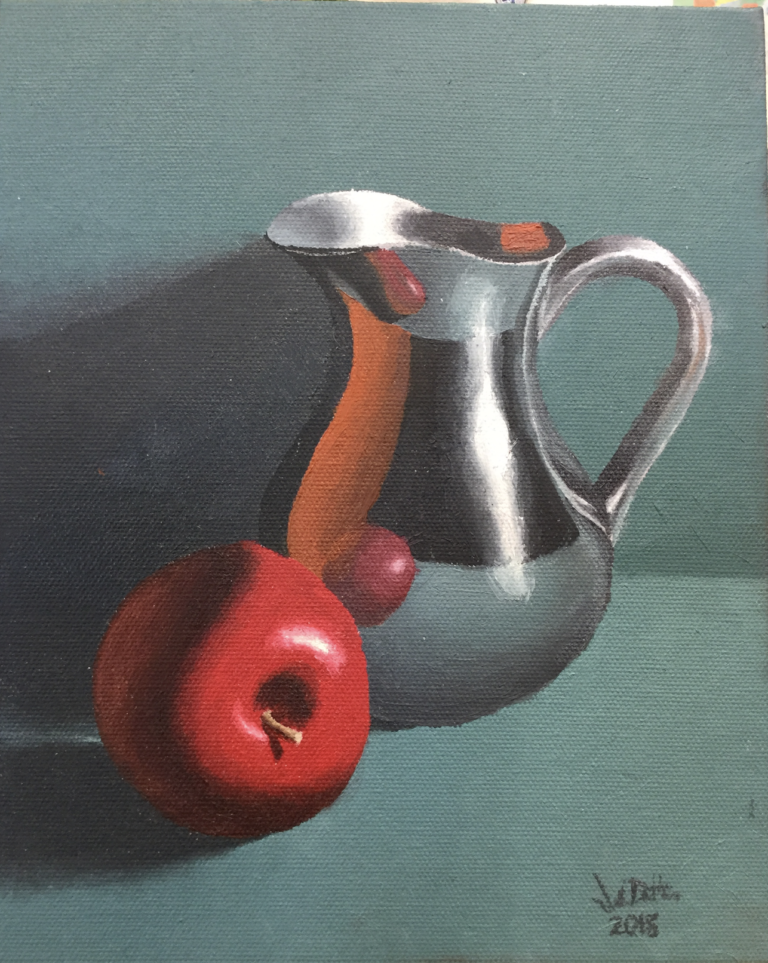 Silver Pitcher and Apple, first oil painting by Jude D., age 14.
Have you ever looked a piece of art and thought, "WOW!  I wish I could do that."?
Have you ever picked up a paint brush, tried a couple of paintings, and gave up in frustration?
Or, maybe you had an art teacher in school that you just didn't connect with, and because of that you decided art wasn't your thing.
At Ocean View Arts, we help you gain confidence and skills to bring your inner artist to life.  
You're only three steps away from discovering the easy-to-learn skills that will take your art abilities to new and satisfying levels..
Thank you for visiting! I'm Meryl Ann Butler and I've been a professional artist and instructor for over 35 years. I operated an art school in Louisiana prior to relocating to Tidewater, and also taught in many venues before opening my second art school, Ocean View Arts. I'm honored that my artwork is in collections around the world.
 I had the privilege and good fortune to be trained for seven years in New York under master of realism, Harold Stevenson, who studied with Norman Rockwell. Our extended  artistic lineage is filled with formidable artists, more information and images of their work is on the OV Lineage page.
This pedigree of art training and experience uniquely qualifies me to be your art instructor, because while classical art training methods are rarely taught, they are actually foolproof! I have taught thousands of students, and I have discovered that any student who can hold a pencil can learn these methods, as you can see in the student gallery below.
Once the basics are learned, the magic of a whole world of art is unlocked in the wide variety of traditional, contemporary and visionary art methods that I offer.
I have found in my decades of teaching that every single one of my students has an inner artist, it was always just a matter of uncovering it! And this is one of my greatest joys — guiding my students of all ages toward discovering their authentic, creative selves.
Whether you decide on private in-person or online lessons, or online group workshops offered in a wide variety of media, you'll have fun discovering your hidden potential!
Thank you so much for your interest, I look forward to your participation in my classes.