Manifestation Mandala: 
Feathers, Butterflies and Blue Glass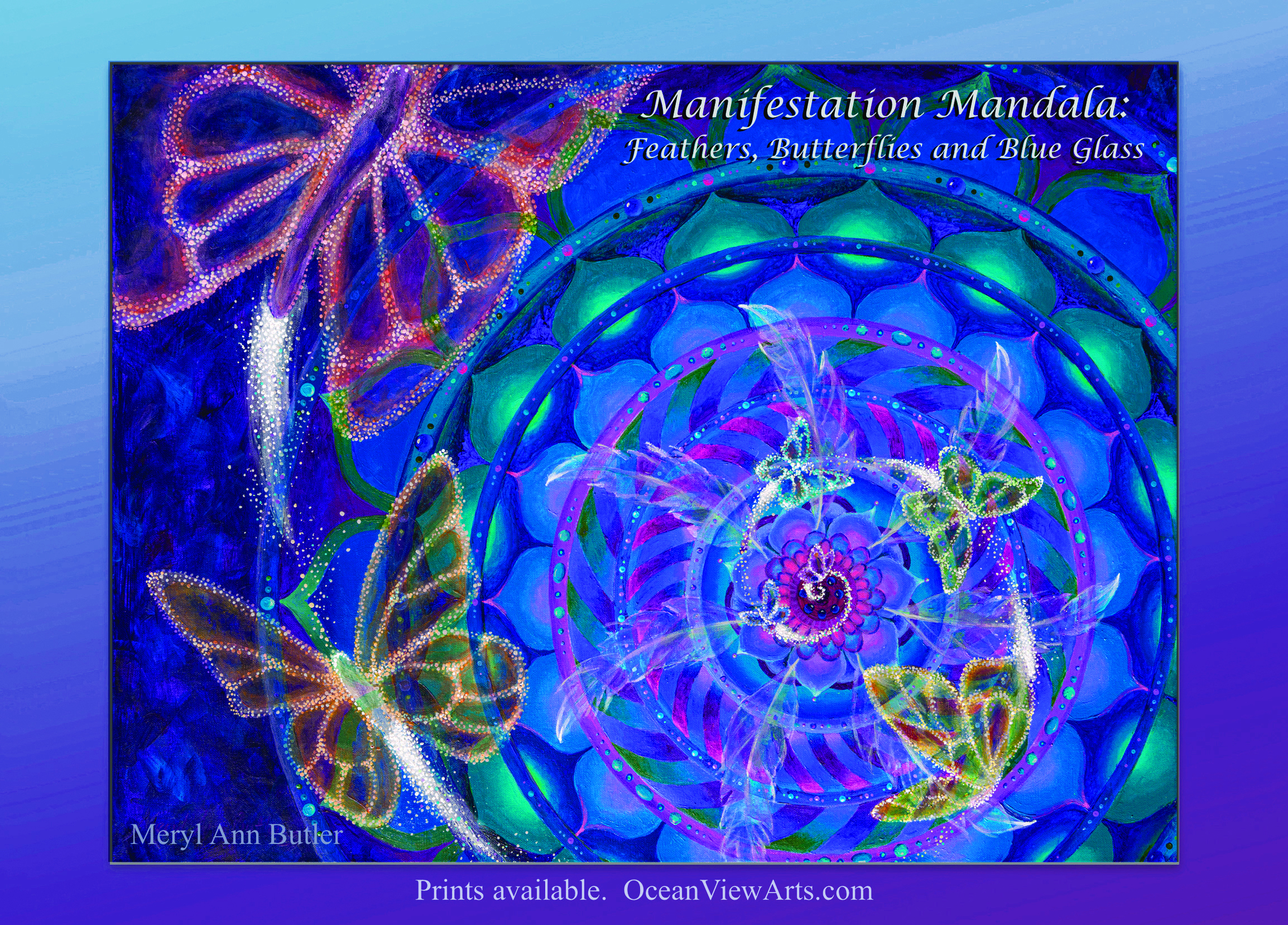 Butterflies emerge from a cosmic vortex in a path of sacred geometry, a Fibonacci spiral.

 

The smallest butterfly is violet, representing unmanifested energy. 

 

The largest butterfly is red since it is the closest to manifestation–red is the color associated with the physical realm.The green butterfly is symmetrical, symbolizing the spiritual  and earth-centered balance which is associated with the heart chakra, the bridge between heaven and earth. Diaphanous feathers swirl around the center of the vortex of light, and shimmering blue glass beads add to the effect of movement and magic.
Giclée prints
What is a giclée print?
(zhee-KLAY) https://www.youtube.com/watch?v=dbKalNSezns  
My prints are created with archival inks on a professional giclée printer, which results in an heirloom quality work of art. In the giclée printing process the application of the inks is so fine that there are no discernible dots on the final print, creating an exceptionally high quality image. I hand sign each of my prints. 
Giclée prints are available in two versions:
printed on gallery wrapped stretched canvas
or on heavy, archival paper.
How to choose?
Giclée prints on gallery wrapped stretched canvas can be nearly indiscernable from an original painting. The canvas is stretched over a wood support frame, tightly wrapped around the sides, secured at the back, and varnished. The colors of the print continue around the sides of the canvas, creating a nicely finished edge and this print is ready to hang upon arrival. A frame may be added if desired, but is not required.
Giclée prints on heavy, archival paper must be matted and framed. The mat is not only decorative, its function is to protect any work on paper from touching the glass.  Depending on the choices you or your framer make, a mat will add an additional 4" – 8"  to the overall size of the print. These prints require a custom cut mat, and can be framed in either a standard size frame or in a custom frame. (Note: depending on choices, the cost of matting and framing often exceeds the cost of the print.) Sizes 18" x 24" and 16" x 20" giclée prints are shipped rolled; 9" x 12" prints are shipped flat. Downloadable matting and framing information is here.
How do I know what size will look best in my space?
Wondering what size will look best? Measure and trim a piece of posterboard (or small sheets of paper or paper bags which have been taped together) to your preferred size, and place this template where you are considering displaying the artwork. 
If you are considering a print on archival paper, remember to enlarge the template to allow for the size of the mat and frame. Typically a 16" x 20" print can be matted and framed in a standard  20" x 24" or 22" x 26" frame. An 18" x 24" print can be framed in a standard  24" x 30" frame. These are general guidelines, since you can have custom mats and frames made to any size desired. More information on matting and framing is here.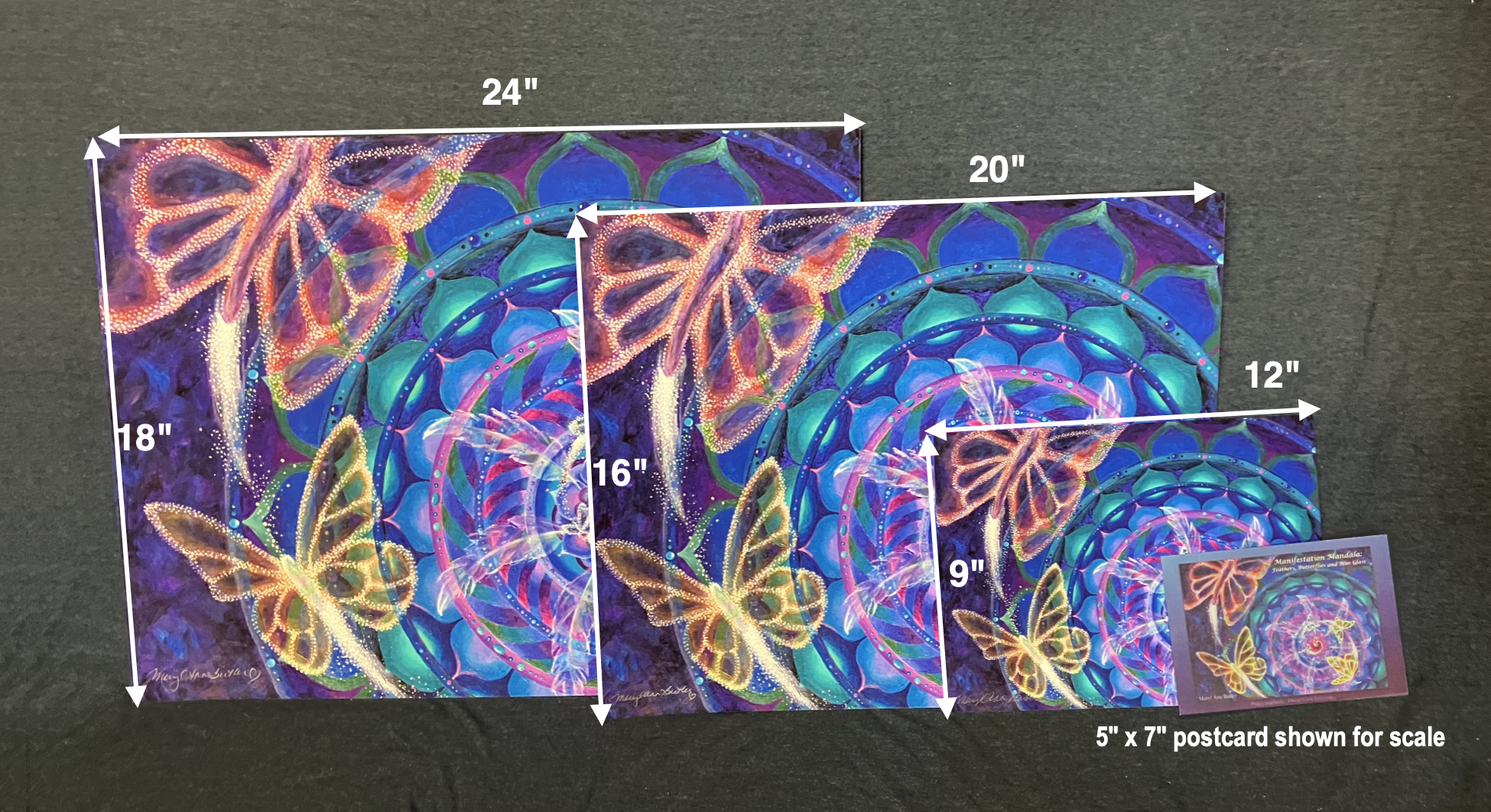 Meryl Ann Butler is a visionary artist who classically trained for seven years with Harold Stevenson, a student of Norman Rockwell.  Her artwork is in collections around the world including those of the late HH Swami Satchidananda, the late Nelson Mandela, Edgar Cayce's A.R.E.  Headquarters, Oprah Winfrey, Martha Stewart, Dr. Patch Adams, Caroline Myss, Dr. Norman Shealy and others.  She is a traditionally published author, and has won numerous awards for her classical, visionary and fiber artworks.