OVA's 7th Annual Day of the Dead Workshop:
Altoid Tin
Shrines
 Zoom workshop — live and recorded 
Sunday
Oct. 29
1:30 – 4:30 pm Eastern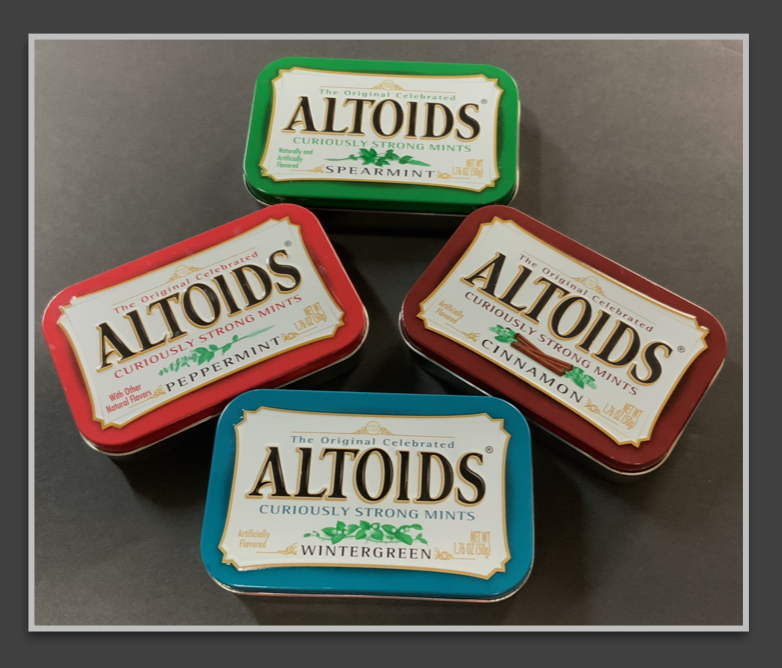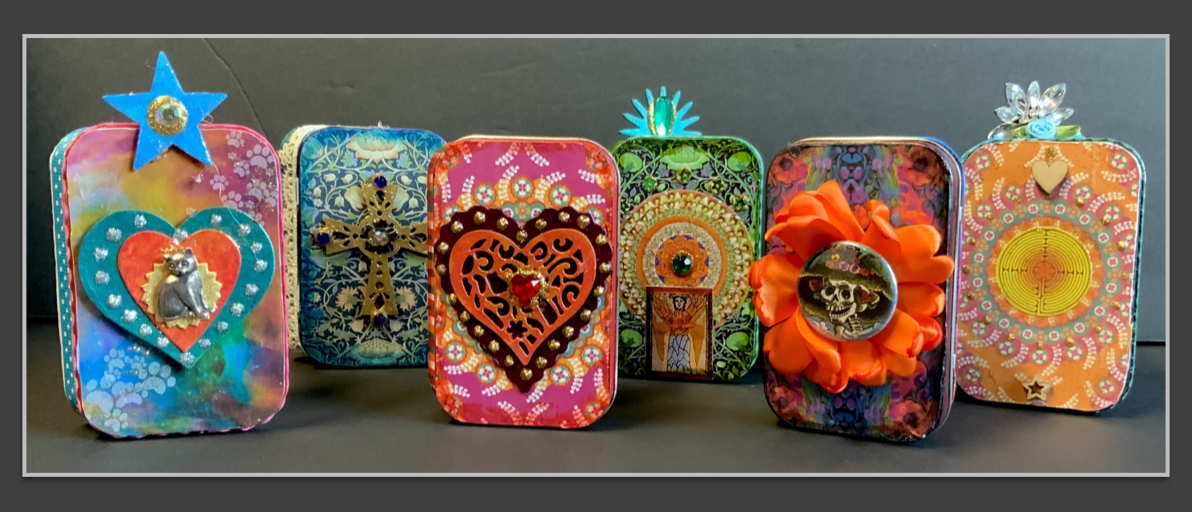 We will have fun celebrating the Aztec/Mexican Day of the Dead (Dia de los Muertos), a multi-day holiday honoring the lives of departed loved ones, by crafting Altoid tin shrines.
In Mexico, on November 1st and 2nd, families build altars or shrines featuring images of those being honored along with iconic symbols of sugar skulls, butterflies, marigold flowers and candles.
In spite of the seemingly somber topic, it is a holiday that celebrates and honors the dearly departed with joy and often humor!
In this 3-hour workshop, you'll craft a charming Altoid box shrine like the ones shown here – you can honor a human or furry loved one, memorialize a favorite celebrity, or simply make a beautiful little gift box focused on any topic you like.

 
Most of the instructional information will be covered in the first half of the workshop. In the second half I will answer questions and provide individual help while everyone happily creates together—stay as long as you like, a recording will be available for those who must leave early or can't attend live. 
The healing power that our group generates with our creativity will have long lasting effects on our own wellbeing and on our planet!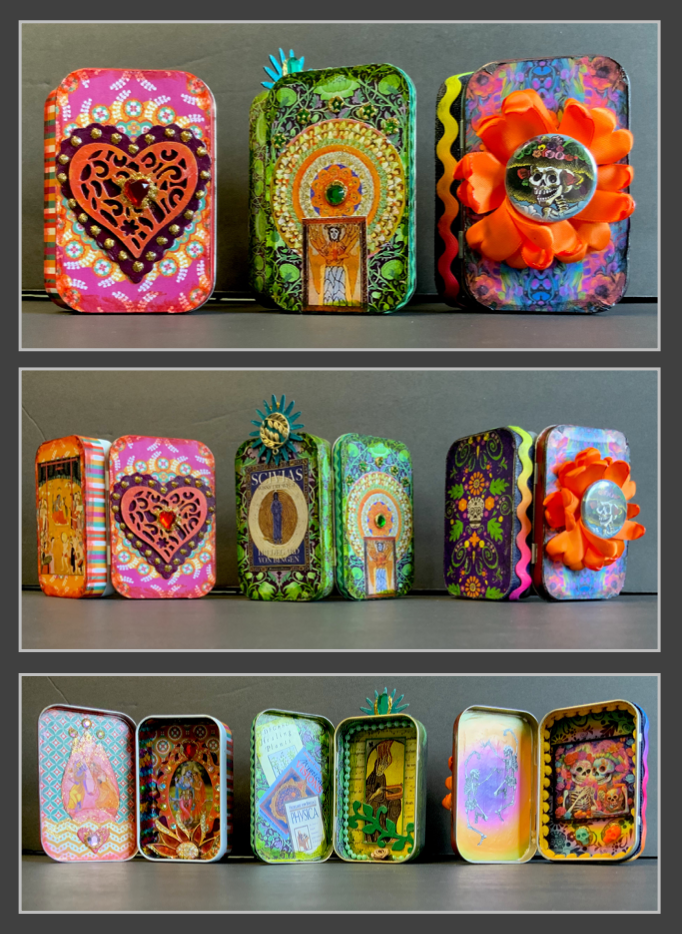 Basic supplies needed: 
Empty, cleaned Altoid Tin (1.76 oz size); photo or image of honoree(s); printer access, paper and card stock for printing templates, patterns, etc. (A slicker finish card stock—not vellum finish—produces a crisper image, however vellum finish card stock is the standard for most OVA workshops and may be used.); Mod Podge; an X-Acto or other craft knife and mat is recommended if available but a single edge razor blade and piece of corrugated cardboard will work for the very small amount of trimming we will do. 
Additional details and other simple, standard craft supplies and ideas for embellishments are listed on the full supply list you receive when you sign up.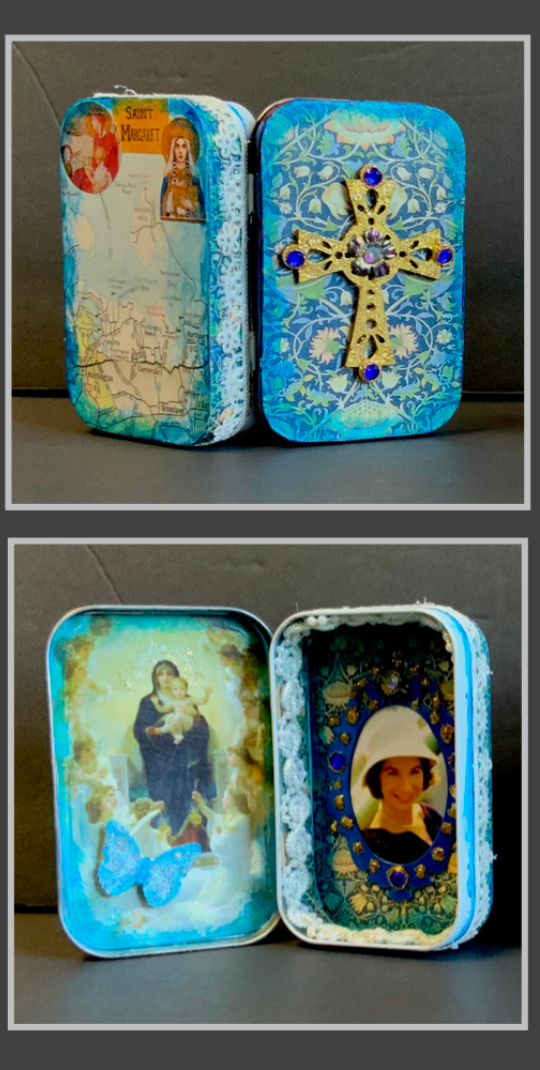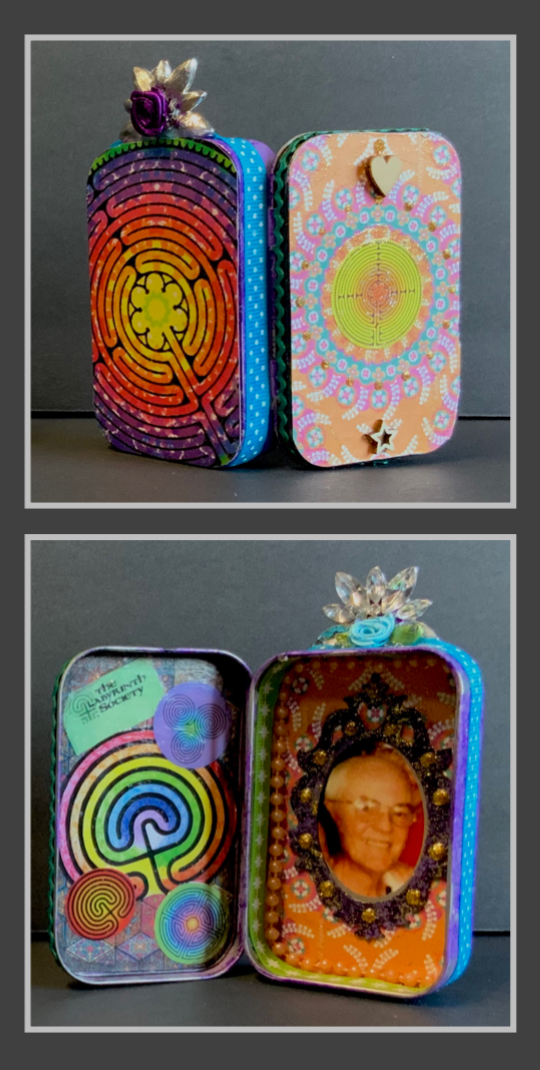 WHAT YOU GET:
A 3-hour live workshop with other cool creatives during which you will see clear demos, have questions answered, and create your Altoid tin shrine (or gift box). The workshop will be recorded for those who cannot attend the live workshop or for attendees to review later.
  A 17-page pdf download  of templates, patterned papers and instructions which includes plenty of choices of images, backgrounds and color-ways, as seen in these samples—enough for many shrines! (Be sure you can open pdfs on your device.)

 

You will need access to a printer (either during the workshop or before. If your home printer isn't friendly with card stock or if you prefer not to use your own color ink,

 

local office supply stores can print your selections for under $5.) If printing at home, you will need your own paper and card stock.
And you'll have a fun and relaxing respite with a great group of creative souls! Studies have shown that just 45 minutes of creative arts activity lowers stress, enhances sleep, reduces both high blood pressure and cortisol, and increases endorphins!
Altoid Shrine Doo-mama Kit – OPTIONAL
A limited number of Altoid Shrine Doo-mama Kits (the feminine version of Doo-dad!) are available. This is optional – you DO NOT need this kit to participate in the workshop!
This kit offers a group of fun, carefully curated extras and embellishments, including 20 precut chip board shapes that will fit your Altoid box (including two of the oval frames shown on the Templates & Stencils for Altoid Tin Shrine page in your download, as well as hearts, stars, floral/botanicals, etc. These can be painted with acrylic paints and there are enough for several shrines!  Also included: rhinestones, silver skull charms, skull cabochon (a cabochon is a flat bead without a hole), fabric roses and other bonus embellishments. Kits are only available for workshop participants. (If ordering a week or less before the workshop, contact me first if you would like to arrange Priority Mail shipping for $10.)
To get an Altoid Shrine Doo-mama Kit (available in the US only): After you register, please mail a check (made out to Meryl Ann Butler) for $15  PLUS a 5" x 7" or 6" x 9" self-addressed, stamped envelope (THREE stamps) to:  Meryl Ann Butler-Shrine Kit, PO Box 8241, Norfolk, VA 23503.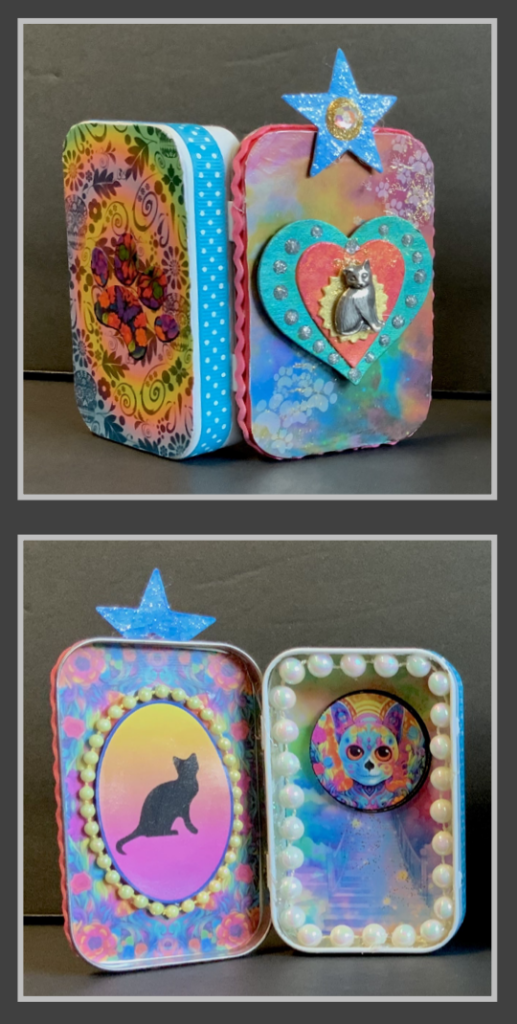 If you want to find out more about the popular "Day of the Dead" holiday before or after the workshop you can watch the movie "Coco" and/or enjoy this 4-minute music video, "Calaverita" by La Santa Cecilia
UPCOMING WORKSHOPS:
Upcoming Workshops: Times and Dates TBA
Learn by copying: Georgia O'Keeffe's Poppies
You'll learn Meryl Ann's valuable methods as you paint a copy of Oriental Poppies, 18" x 24."
The initial underpainting is done in acrylics in order to create depth of color, the top painting is done in oils for ease in blending. Copying from the Old Masters is one of the most basic traditional learning methods – in fact, the reason art museums were founded was in order to provide great works for art students to copy!
Elements of Art: Keys of Color
Students receive a pdf of Meryl Ann's  30-page workbook, Elements of Art: Keys of Color, and during workshop times, will complete the color charts that accompany the workbook. Students go at their own pace. Supplies: a set of gouache (not acrylic gouache) and brushes.
Drawing Tips and Secrets
Demos and hands on activities to train you eye and hand, and a peek into some of the secrets the Masters used for accuracy in drawing.