We are happy to invite you to enjoy recordings of our popular workshops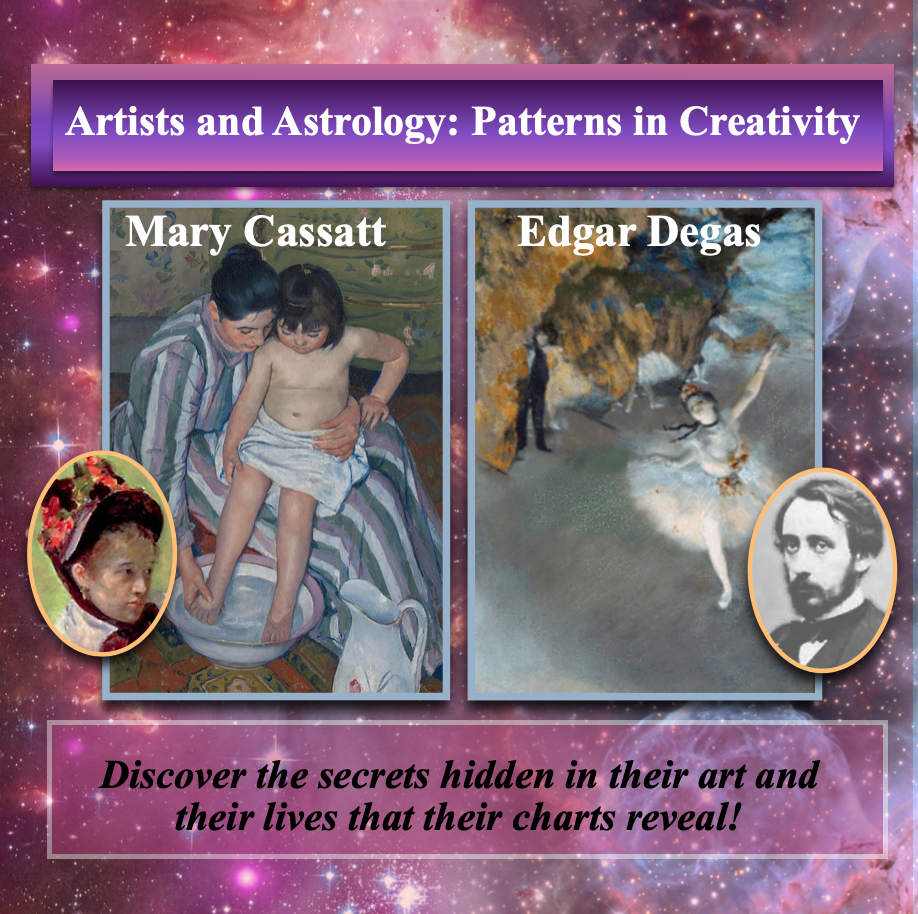 Mary Cassatt and Edgar Degas:
What do the stars reveal about the great artists' lives and their approach to art?
Find out in this informative and lively recorded workshop.
This 90-minute+ recorded Zoom workshop focuses on iconic Impressionists, Edgar Degas and Mary Cassatt. Both of them began as realists, what do their charts reveal about why they took a radical path?
How do their astrological influences show up in their artwork?
And, were they lovers or not?
Artist-author Meryl Ann Butler and astrologer-author Stephen Poplin are your guides as you:
* discover how astrological factors influence an artist's creative style
* explore how celestial influences impact subject matter, color, composition and style.
* learn how famous artists' zodiacs reveal the innermost workings of their creative processes
* uncover juicy secrets about the artists' lives that may not be fully revealed in history but which cannot be hidden in their charts
This workshop was given live on Sunday Feb.27, 2022.
Meryl Ann and Stephen are the creators of the popular online workshop, "Decoding your Horoscope:  Edgar Cayce's Mystic Vision."
You may pay by Paypal below.
You may pay by check to Ocean View Arts, mailed to: Meryl Ann Butler OVA, PO Box 8241, Norfolk, VA 23503. Please also send an email with your check number, with subject line "Ocean View Arts workshop" to [email protected]. Thank you!
You may pay via Zelle on Stephen's page at https://stephen-poplin.com/artists-n-astrology