Celebrate the Day of the Dead:
Create a Paper Nicho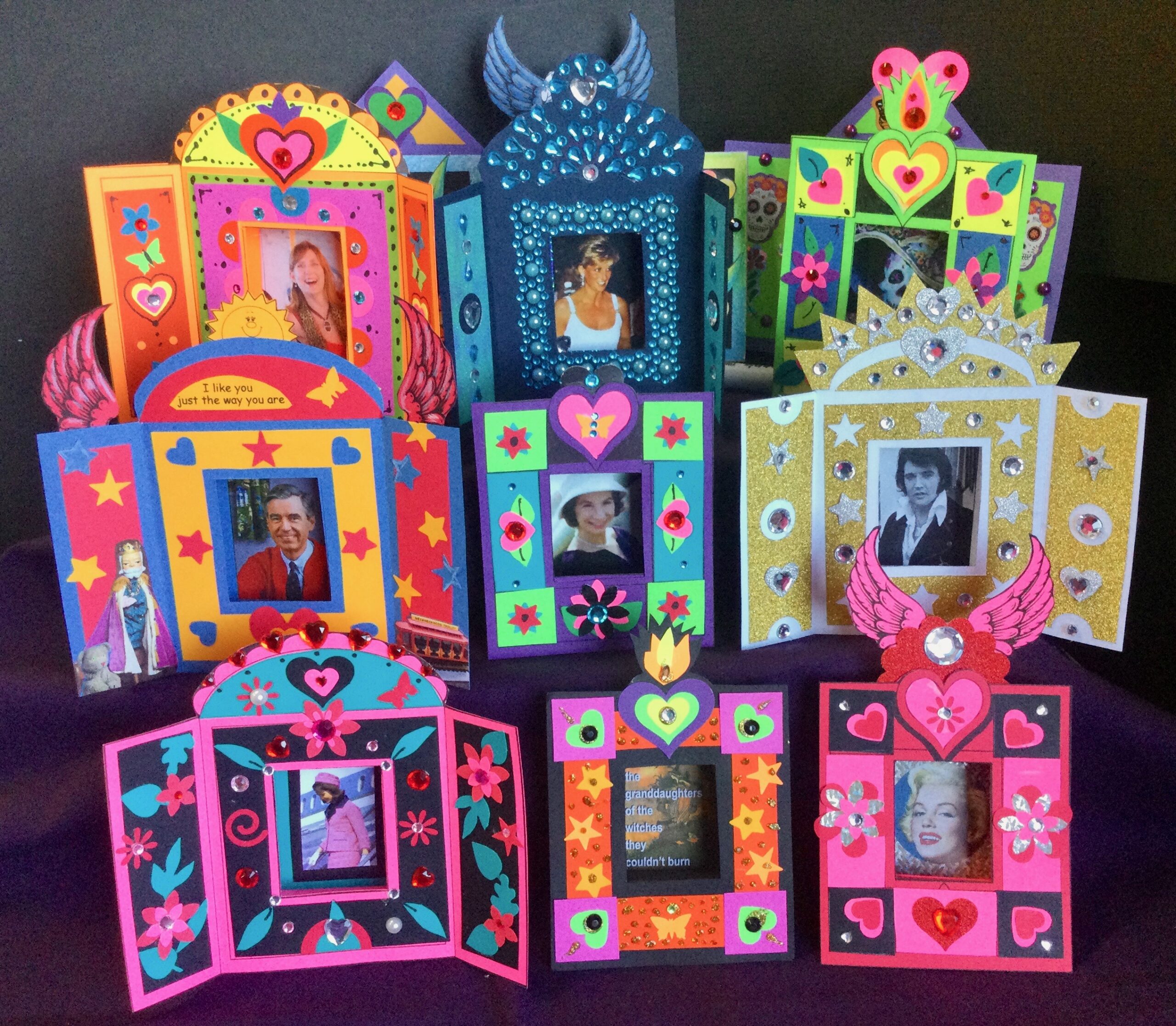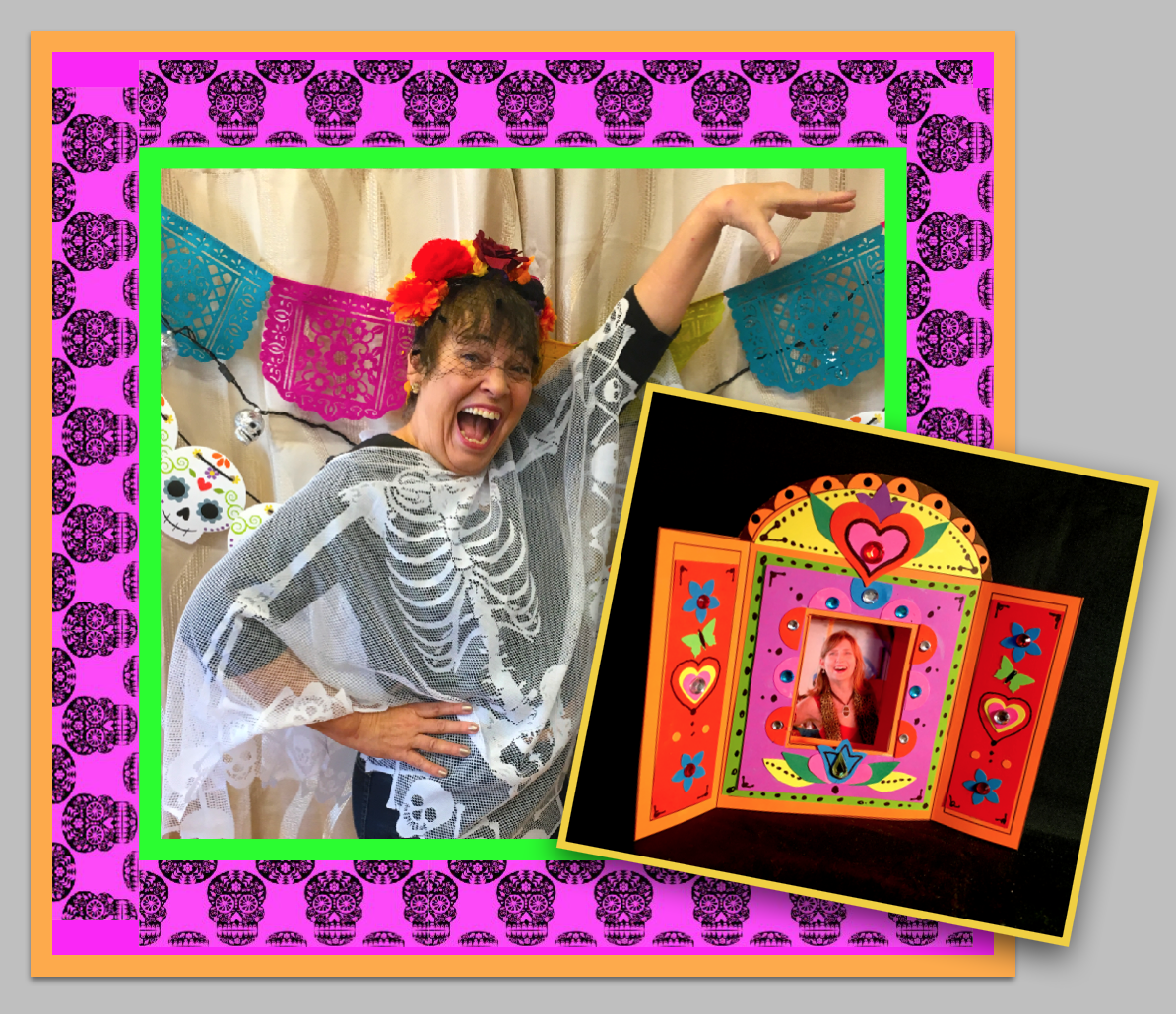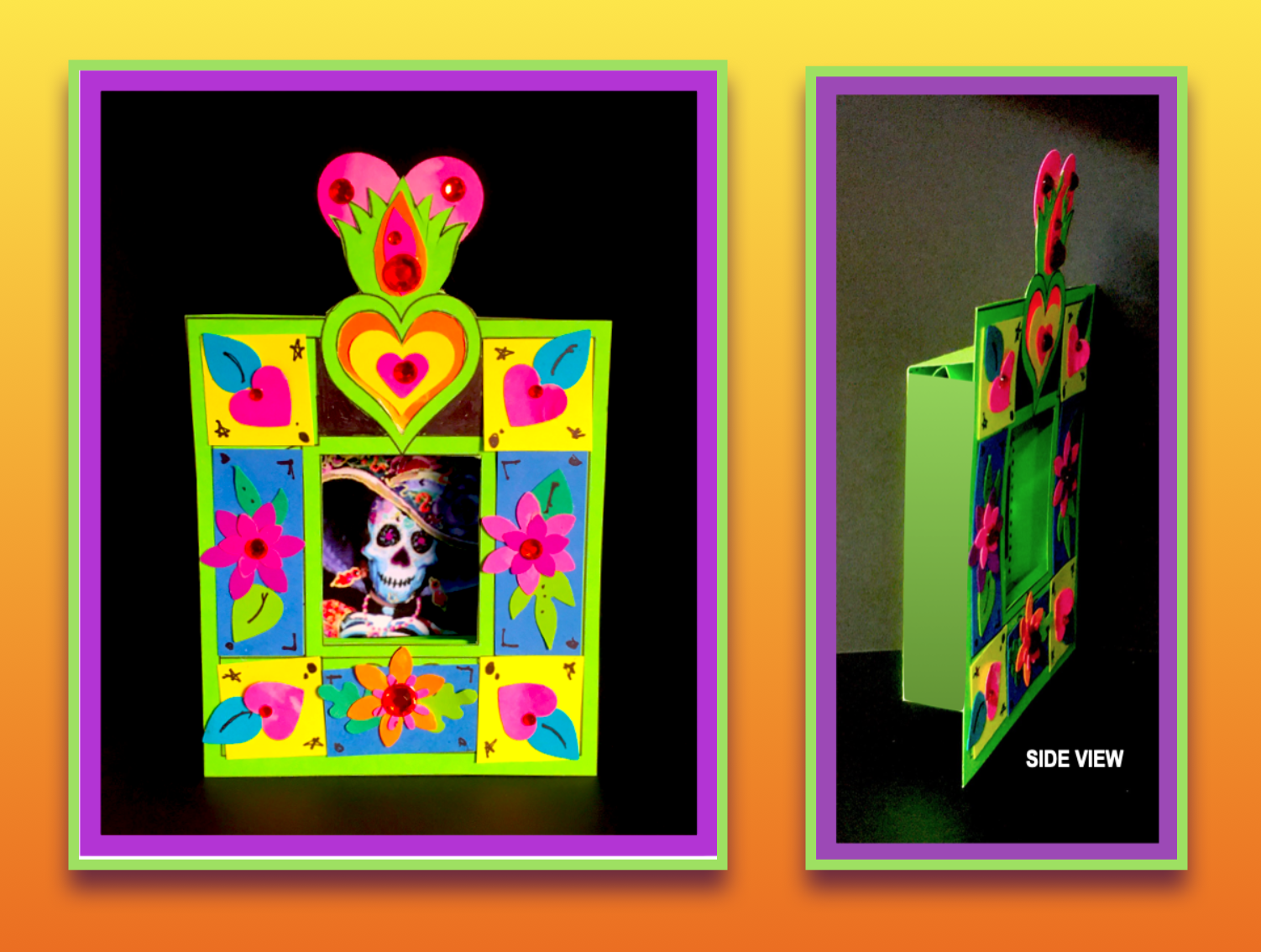 Choose between two times: (or come to both!)
Sunday afternoon Oct 31; 2 pm – 4 pm EASTERN
Monday evening Nov. 1: 7 pm – 9 pm EASTERN

Nichos are a type of folk art box popular throughout Central and South America, often devotional but sometimes merely quirky. Resembling dioramas, and sometimes refered to as retablos, they are made from common craft materials and traditionally combine elements from Roman Catholicism, mestizo spirituality, and popular culture. Within the box there is a central figure or symbol for whose honor the nicho has been created, or use this special place to showcase an affirmation. Nichos are usually striking colors, often contrasting bright and dark, and typically embellished with wild abandon.
We will celebrate the Aztec/Mexican Day of the Dead (Dia de los Muertos), a multi-day holiday honoring the lives of departed loved ones with this 2 hour workshop. You'll make a folk art-style nicho or two like the one shown here to honor a departed loved one (human or furry), to memorialize a favorite celebrity or honor an idea or concept. Choose your own image or use those supplied, such as La Catrina shown.
WHAT YOU GET:
A downloadable pdf with images, templates, patterns and instructions two weeks before class. (Be sure you can open pdfs on your device.)
A 2-hour live workshop during which you will receive all instructions needed and create your personalized nicho.
An opportunity to celebrate a loved one with a group of other Creatives!
You will need access to a printer (either during the workshop or before. If your home printer isn't friendly with card stock or double-sided printing, or if you prefer not to use your own color ink, local office supply places can print your selections. ) If printing at home, you will need your own colored and/or white card stock (but if printing at your local printer, they typically offer a selection of colors, Astro-Bright card stock is recommended for the riot of color usually associated with Day of the Dead. You will need other standard craft supplies, such as glue, scissors and tape; and optional embellishments such as sequins, rhinestones, glitter, small fabric flowers and/or small discarded jewelry pieces. A fine point black Sharpie marker. You may print your nicho and componant parts on colored papers or print on white and color in designs with markers, watercolors, or colored pencils. A full list will be available online shortly and will be included in your handout.
Find out more about the popular "Day of the Dead" holiday before or after the workshop:
Watch the movie "Coco".
Enjoy this 4-minute music video, "Calaverita" by La Santa Cecilia
Sliding scale
Standard: $25
Abundance level $35
Scholarship level $15
UPCOMING WORKSHOPS:
Upcoming Workshops: Times and Dates TBA
Learn by copying: Georgia O'Keeffe's Poppies
You'll learn Meryl Ann's valuable methods as you paint a copy of Oriental Poppies, 18" x 24."
The initial underpainting is done in acrylics in order to create depth of color, the top painting is done in oils for ease in blending. Copying from the Old Masters is one of the most basic traditional learning methods – in fact, the reason art museums were founded was in order to provide great works for art students to copy!
Elements of Art: Keys of Color
Students receive a pdf of Meryl Ann's  30-page workbook, Elements of Art: Keys of Color, and during workshop times, will complete the color charts that accompany the workbook. Students go at their own pace. Supplies: a set of gouache (not acrylic gouache) and brushes.
Drawing Tips and Secrets
Demos and hands on activities to train you eye and hand, and a peek into some of the secrets the Masters used for accuracy in drawing.