No experience required, suitable for all skill levels. 
This class is based on the methods of the late Dr. Judith Cornell, with whom Meryl Ann studied.
Using Prismacolor pencils on black paper, first-time students learn to create a magical sense of glowing light and a Hands of Light mandala. Students who have taken this workshop previously will continue work on unfinished pieces or begin intermediate or advanced projects.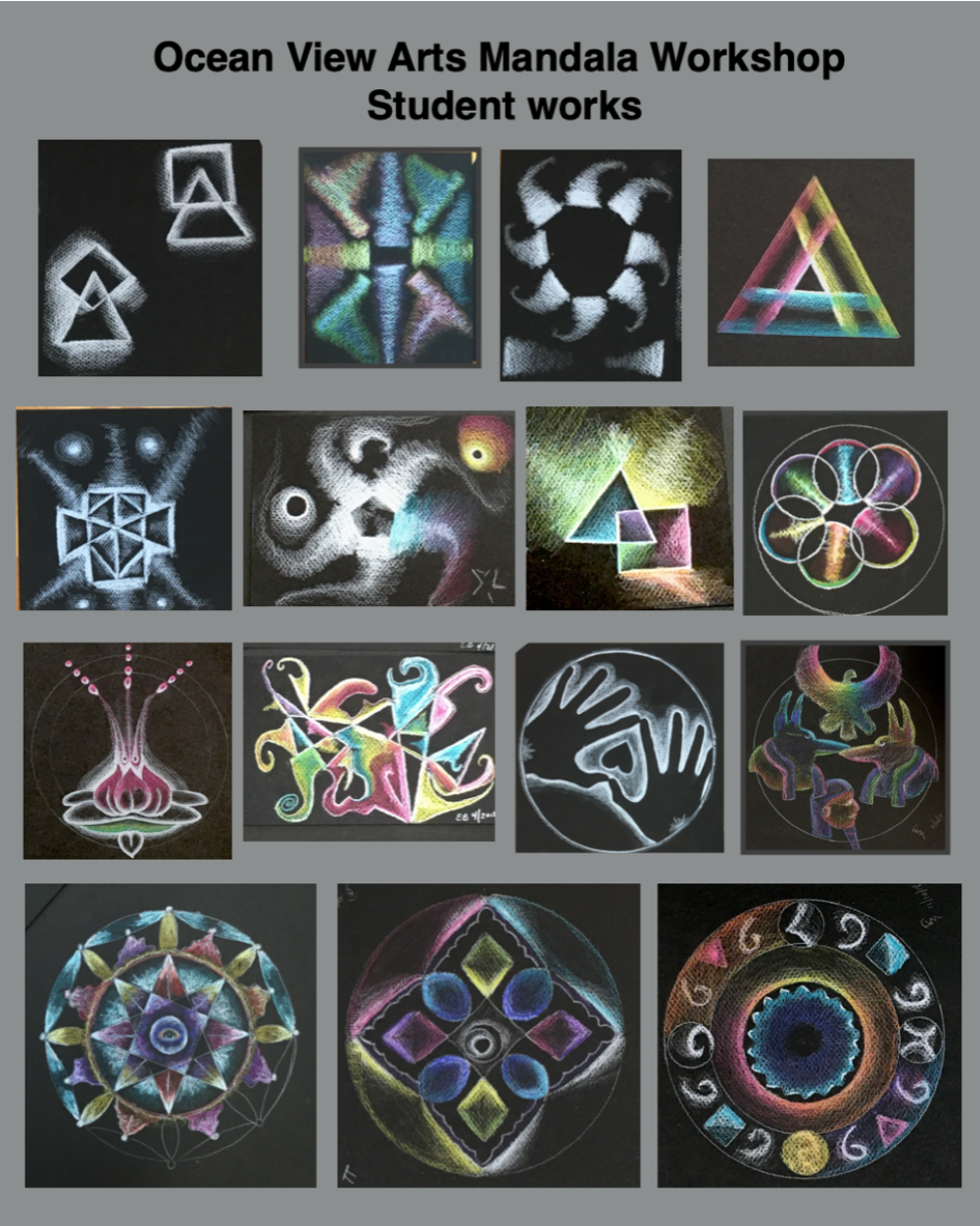 Supply List
1. Canson Mi-Tientes paper, BLACK. 
First time students: Several pieces, scraps are ok, about 4" x 4" to 7" x 7", or larger and one larger square at least 11.5 x 11.5" up to 13" x 13" square. 
Intermediate/Advanced students: Larger pieces, at least one approx. 13" x 13."
Mi-Tientes is available by the 19" x 25" individual sheet, which can be cut. It is also available (but sometimes hard to find) in 9" x 12" pads. I love the pads because they are so portable and provide a nice firm surface for drawing, but if ordering online, be careful to make sure that the paper is BLACK.) Black construction paper is not suitable. Other good quality, rag content, black pastel papers may work, but none are as good as Mi-Tientes. A clipboard is useful as a hard surface to draw on. The darker, more textured side is generally used as the "right" side. Marking the back when the paper is cut can be useful. 
2. Prismacolor pencils: (Prismacolor Scholar pencils are lesser quality and not recommended.) 
First time students:  White (3-4, they will get dull quickly!) Optional: Magenta, Aquamarine, Canary, Black (one each) 
Intermediate/Advanced students: above colors plus Orange, Violet, Spring Green, Ultramarine, Mulberry,  (or any large Prismacolor set.)
3. Electric pencil sharpener that sharpens to a long, tapered point.
Note: the battery-operated ones typically make a shorter, stubbier point that is not as useful for subtle blending. Electric is recommended because there will be frequent sharpening, but the most important thing for this technique is the tapered point. 
4. Stencils, templates, compass: 
First time students:  Print the Templates pdf on 2 pieces of card stock. Cut out the two half circles and tape together. (You don't need to do this if you have a compass. 
Intermediate/Advanced students: Print the Templates pdf on card stock if you need the triangle or hexagon template or the circle template. Optional: French curve, drafting triangle, geometric shape stencils (circles, triangles, etc), other shape stencils such as diamonds, hearts, stars, moons (generally 1-2 inches in diameter or smaller). Other favorite stencils with simple shapes. Inspirational source material: simple images from a favorite topic, such as Egyptian symbols, suns & moons, flowers, etc.
5. Optional
Everyone: Scissors, tape, tracing paper, ruler. The book, Mandala: Luminous Symbols for Healing by Dr. Judith Cornell is recommended but not required.
Intermediate/Advanced students: reference material, additional stencils as desired. Making your own stencils from downloaded images printed on card stock will be demonstrated, if you want to try this, you may want to have on hand: card stock, craft knife, surface to cut on with the craft knife.
UPCOMING WORKSHOPS:
Upcoming Workshops: Times and Dates TBA
Learn by copying: Georgia O'Keeffe's Poppies
You'll learn Meryl Ann's valuable methods as you paint a copy of Oriental Poppies, 18" x 24."
The initial underpainting is done in acrylics in order to create depth of color, the top painting is done in oils for ease in blending. Copying from the Old Masters is one of the most basic traditional learning methods – in fact, the reason art museums were founded was in order to provide great works for art students to copy!
Elements of Art: Keys of Color
Students receive a pdf of Meryl Ann's  30-page workbook, Elements of Art: Keys of Color, and during workshop times, will complete the color charts that accompany the workbook. Students go at their own pace. Supplies: a set of gouache (not acrylic gouache) and brushes.
Drawing Tips and Secrets
Demos and hands on activities to train you eye and hand, and a peek into some of the secrets the Masters used for accuracy in drawing.
Brooklyn Art Library Sketchbook Project
The Brooklyn Art Library is the world's largest collection of artist sketchbooks! Every participant uses the same 5×7" blank custom sketchbook, with approximately 16 two-page spreads (you can adjust the number of pages) , to engage in creative storytelling within a global community. Students in this class will work on their own personalized art sketchbook with technical and creative assistance from the instructor and inspiration from the other students in class. Sketchbooks can include drawn and or painted images, words, poetry, photos, collage, and more. Classes will meet several times and students have 3-4 months to complete their art sketchbook. This is an exciting way to gain skills in art journaling, share your message with the world, and add an important project to your art resume.
The Brooklyn Art Library hosts a physical library space that is free and open to the public, and has a digital library accessible worldwide, making the collection accessible to people of all ages and skill levels through robust education programming. For more info and to see examples of sketchbooks in their digital library: https://www.sketchbookproject.com/  A video of instructor, Meryl Ann's first Brooklyn Art Library Sketchbook is forthcoming. To explore thematic sketchbooks:
Bright Shiny Mind by Anne-Sophie Dumetz : https://www.sketchbookproject.com/library/4988
Happy Thoughts by Edita Rojas: https://www.sketchbookproject.com/library/160
An Artsy Jumble of Nature, Nurture, and Humor by Sally LaCross https://www.sketchbookproject.com/library/S54546
Happy Thoughts by Jo Moran: https://www.sketchbookproject.com/library/33
Happy Thoughts by Leena Bagawde: https://www.sketchbookproject.com/library/365