Introduction to Colors, Chakras and Healing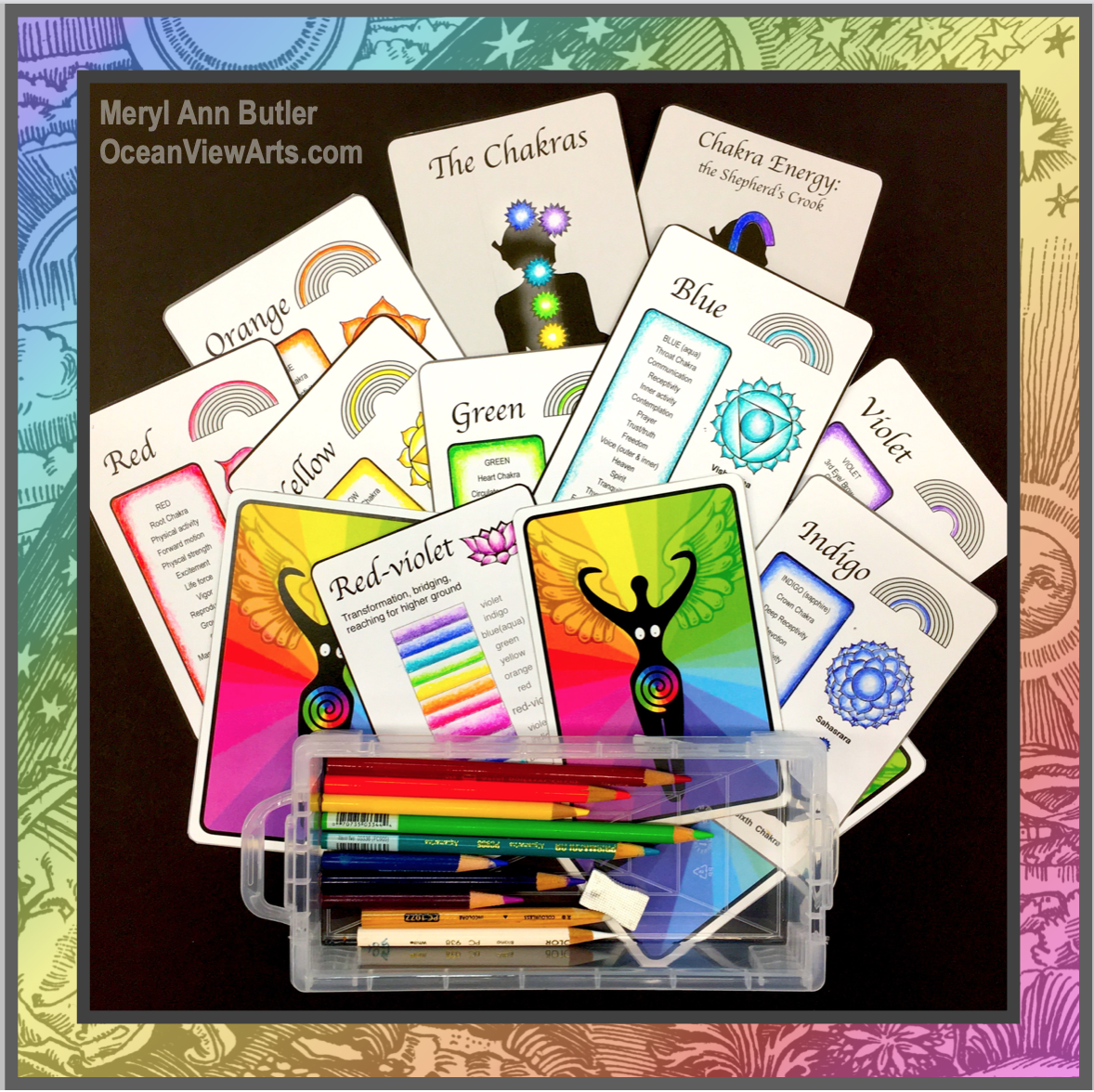 Available as a self-paced video experience with a 14-page download
 WHAT YOU GET:
Access to a 2.5-hour  Zoom workshop video for six months
The video includes a  50+ slide Powerpoint presentation of the healing aspects of color 
A 14-page download of templates, instructions, color guides and other information
The ten original Chakra Color Cards have been specially designed for this workshop by Meryl Ann (two different chakra systems are discussed, cards are provided for both)
A fun and relaxing opportunity to learn about color and chakras
You will need access to a printer. If your home printer isn't friendly with card stock, local office supply places can print for you. Craft supplies needed: card stock, colored pencil set, colorless blender (optional), pencil sharpener, eraser, scissors, glue stick. (More details on supplies are in the supply list download you will receive upon signing up.)
WHAT YOU'LL LEARN:
the healing aspects of colors
the relationships of different colors to wellbeing and disease
how the vibrations of different colors can affect you
which color enhances physical strength
which color alleviates stress
which color reduces insomnia
and more!
You will be able to use your new knowledge of color to enhance your life!

 

Colors and Healing has been one of Meryl Ann's most popular workshop topics at Edgar Cayce headquarters and related events events since the 1980s!
WHAT YOU'LL DO:
Using templates and colored pencils, you'll create a set of 10 beautiful color cards that can be used as flash cards for learning the aspects of each color and/or divination tools.
This workshop is suitable for participants with or without art experience. If you are brand new to working with colored pencils and would like to get a head start, you can sign up for the downloads and video of the "Artsy Coloring for Fun and Relaxation" so you can practice some of the techniques, including gradients, blending and burnishing.
Coloring is akin to meditative practice, and has been shown to reduce stress and enhance relaxation and wellbeing, so expect to leave feeling better than when you arrived!
SUPPLIES NEEDED:
COLORED PENCILS:
A set of Prismacolor pencils or other high quality colored pencils such as Caran d'Ache, Tombow, etc. Most colored pencil sets of 24-48 pencils offer plenty of color choices, and even a small set of 12 colors is sufficient, (although a set of 48 has ALL the colors recommended for this class and Meryl Ann's other colored pencil workshops.) If you are used to using them, Derwent Inktense Colored Pencils can be used. Note: "student grade" colored pencils (such as Prismacolor "Scholar" or Crayola) have weaker colors than the professional grade.
A colorless blender is great to have but not required.
Specific colors recommended are referenced with Prismacolor colors, however a link to the color chart is supplied and can be used to substitute other brands. Recommended colors are useful but it is not required to have exact colors of pencils for this project.
CARD STOCK AND ACCESS TO PRINTER:
You will receive downloadable pdfs with supply list, info, resources, and templates after you sign up. (Be sure you can open pdfs on your device.) You will need access to a printer. Your home printer is fine if it is friendly with card stock, however local office supply places can print for you.

Note: Neenah Exact Vellum Bristol, 8.5″ x 11," 67 lb/147 gsm, White, 94 Brightness, 250 Sheets is recommended (available on Amazon). This is the card stock used in most of my classes that require card stock. "Vellum Bristol" is a toothy finish lightweight card stock that provides a good surface for colored pencil (a shiny finish card stock does not work as it repels the colored pencil, though it's good for markers). Other brands of card stock may work, the finish should be slightly textured, not shiny or smooth.
OTHER GENERAL CRAFT SUPPLIES:
Pencil sharpener, eraser, scissors, glue stick.
(More details on supplies are in the supply list you will receive upon signing up.)
UPCOMING WORKSHOPS:
Upcoming Workshops: Times and Dates TBA
Learn by copying: Georgia O'Keeffe's Poppies
You'll learn Meryl Ann's valuable methods as you paint a copy of Oriental Poppies, 18" x 24."
The initial underpainting is done in acrylics in order to create depth of color, the top painting is done in oils for ease in blending. Copying from the Old Masters is one of the most basic traditional learning methods – in fact, the reason art museums were founded was in order to provide great works for art students to copy!
Elements of Art: Keys of Color
Students receive a pdf of Meryl Ann's  30-page workbook, Elements of Art: Keys of Color, and during workshop times, will complete the color charts that accompany the workbook. Students go at their own pace. Supplies: a set of gouache (not acrylic gouache) and brushes.
Drawing Tips and Secrets
Demos and hands on activities to train you eye and hand, and a peek into some of the secrets the Masters used for accuracy in drawing.