No experience required, suitable for all skill levels. 
The first Saturday in May has been established as World Labyrinth Day, a global day of celebration of the labyrinth.

Annually, enthusiasts around the globe are invited to "Walk as One at 1" by walking a labyrinth at 1:00 pm in local time zones, creating a wave of wellbeing flowing around the world.
This year we will walk pdf finger labyrinths together in an online workshop 
For more information on labyrinths, search "OpEdNews Labyrinths Meryl" online to find any of my articles in my 16-article series on labyrinths, then scroll down to the bottom of the page to see the entire list of articles in the series.
This is a popular series, these articles have had over 45,000 views. 
A labyrinth is an ancient, geometric pattern that has a single, meandering path that leads into the center and out again. 
The design of a labyrinth is based on a circle, the ancient symbol for healing, unity and wholeness. 
By walking a labyrinth, we are participating in an activity that has been significant to people all over the world for at least 3,000 years. Instead of just reading about mythology, we can participate in it! 
The best-known labyrinth in the world is an eleven-circuit design dating from the 13th Century in the floor of Chartres Cathedral in France. 
Workshop Schedule:
Arrive by 12 noon
Zoom waiting room will be open about 10 mins early.
12 pm until 1-ish:
Introductions, keynote presentation on the Magic and Mystery of the Labyrinth.
1 pm – 2 pm (til 2:15 if there are lots of questions.)
The experience: You will see a slide presentation filled with amazing information and gorgeous images, and you will have the opportunity to finger-walk printed pdf labyrinths in unison with others around the world, followed by a time for sharing.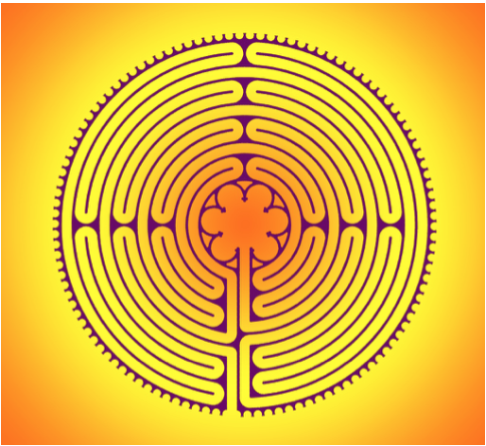 The American Cancer Society states that walking labyrinths "may be helpful as a complementary method to decrease stress and create a state of relaxation."
Research conducted by Dr. Herbert Benson at Harvard Medical School's Mind/Body Medical Institute has found that focused walking meditations are highly effective at reducing anxiety and eliciting what Dr. Benson refers to as the relaxation response, which can:
Lower blood pressure
Lower breathing rates
Reduce incidents of chronic pain
Reduce insomnia
UPCOMING WORKSHOPS:
Upcoming Workshops: Times and Dates TBA
Learn by copying: Georgia O'Keeffe's Poppies
You'll learn Meryl Ann's valuable methods as you paint a copy of Oriental Poppies, 18" x 24."
The initial underpainting is done in acrylics in order to create depth of color, the top painting is done in oils for ease in blending. Copying from the Old Masters is one of the most basic traditional learning methods – in fact, the reason art museums were founded was in order to provide great works for art students to copy!
Elements of Art: Keys of Color
Students receive a pdf of Meryl Ann's  30-page workbook, Elements of Art: Keys of Color, and during workshop times, will complete the color charts that accompany the workbook. Students go at their own pace. Supplies: a set of gouache (not acrylic gouache) and brushes.
Drawing Tips and Secrets
Demos and hands on activities to train you eye and hand, and a peek into some of the secrets the Masters used for accuracy in drawing.
Brooklyn Art Library Sketchbook Project
The Brooklyn Art Library is the world's largest collection of artist sketchbooks! Every participant uses the same 5×7" blank custom sketchbook, with approximately 16 two-page spreads (you can adjust the number of pages) , to engage in creative storytelling within a global community. Students in this class will work on their own personalized art sketchbook with technical and creative assistance from the instructor and inspiration from the other students in class. Sketchbooks can include drawn and or painted images, words, poetry, photos, collage, and more. Classes will meet several times and students have 3-4 months to complete their art sketchbook. This is an exciting way to gain skills in art journaling, share your message with the world, and add an important project to your art resume.
The Brooklyn Art Library hosts a physical library space that is free and open to the public, and has a digital library accessible worldwide, making the collection accessible to people of all ages and skill levels through robust education programming. For more info and to see examples of sketchbooks in their digital library: https://www.sketchbookproject.com/  A video of instructor, Meryl Ann's first Brooklyn Art Library Sketchbook is forthcoming. To explore thematic sketchbooks:
Bright Shiny Mind by Anne-Sophie Dumetz : https://www.sketchbookproject.com/library/4988
Happy Thoughts by Edita Rojas: https://www.sketchbookproject.com/library/160
An Artsy Jumble of Nature, Nurture, and Humor by Sally LaCross https://www.sketchbookproject.com/library/S54546
Happy Thoughts by Jo Moran: https://www.sketchbookproject.com/library/33
Happy Thoughts by Leena Bagawde: https://www.sketchbookproject.com/library/365